Become a software tester within 8 weeks
Median Salary: $63–105k
No Prior Experience Required
Medical / Dental / Vision Insurances
Career Growth
Stable Income
This program covers all necessary skills needed to become a software tester. You can start applying for jobs after 5 weeks of studying.
Online bootcamp is the fastest and most effective way to learn new skills without leaving your current job.
Frequently Asked Questions
All classes are remotely online. They start at 6 pm (PST) 3 times a week.
Yes, no coding or technical knowledge is required.
Average job search process takes around 2 months. Our career center will be supporting you from day 1. Moreover, we'll continue supporting you after you land your first job offer.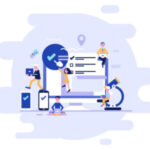 Enroll now, Pay later. We provide various financing options.
No need to quit your current job. Online classes start at 6pm / 3 times a week.
We'll help to build an exceptional resume and set up all accounts.
We conduct real time interviews to make sure you are 100% ready.
testing market is short on specialists
QA (Quality Assurance) Engineer is responsible for ensuring the quality of software products and applications. They work closely with software developers and project managers to develop test plans, create test cases, execute test scenarios and report defects. They use various testing methodologies, tools and techniques to verify the functionality, performance, reliability, and security of the software products.
Have questions? contact us
What the process looks like
Came to this school after 8months of trying to 'teach myself'. Smartest decision I've ever made.
If you don't mind cramming in a years worth of material into a 2 month program, this school is for you.
The quality of education and the amount of help you get from the instructors and TAs are top-notch.